Cold/Warm Water Showers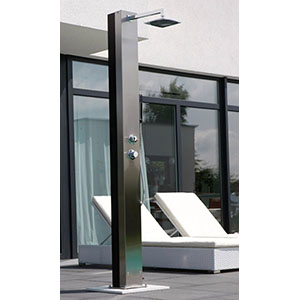 Ideal Trinidad Solar Shower
Pleasant warm water and modern design – those are just a few of the highlights that embody the Trinidad solar shower. The water tank holds approximately 6.6 gallons of water, which is warmed by the sun's radiation. The single mixing lever is used to regulate the water to obtain the temperature that is most comfortable for you. The water is connected to the garden hose system. Comes with a hand-held shower head that can be controlled separately. The only thing you need to add is sun.
---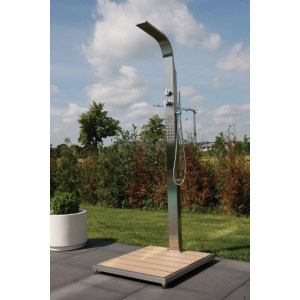 Ideal Helena Garden Shower
Elegant and regal, the Helena shower shines. The large floor plate ensures your feet will always stay clean. As a warm and cold water shower, with a single mixing tap is easy to attain your desired water temperature.
---
Ideal Kuba Shower
The Kuba stands out due to its sleek elegance and clear design. Shining stainless steel in connection with black safety glass and chrome accents – a highlight for everyone who loves clear form. Easy to maintain and long lasting. Warm and Cold water
---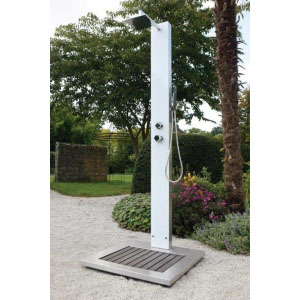 Ideal Tobago Shower
Classic white and elegant – the Tobago shower is an eye catcher for design oriented pool and garden owners. This high quality shower is equipped with head and handheld shower heads, wood plastic composite base plate and stainless steel frame. Warm and Cold water
---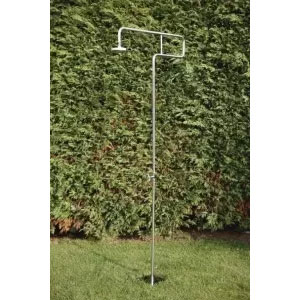 Trombone Shower
Cold Shower Only - Luxurious rain shower for hot days. This stainless steel shower stands out with its clear design and diverse practical applications. The ground spike anchors the shower quickly in grass or bedding making it easy to freshen up anywhere.
---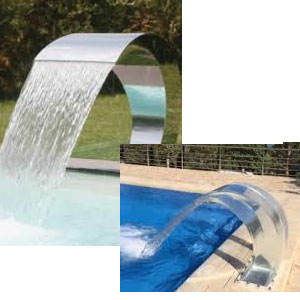 Phoenix Nevada and Tropic Showers
Embody showering fun and water attraction with these stylish gush showers. The steady water stream can be used as a light massage, or a highlight for your pool. Make a grand impression with Nevada's or Phoenix's polished stainless steel or enjoy Tropic's free view of the streaming waterfall through clear acrylic glass.
---
To speak with someone about outdoor pool showers, please call 610-889-0711.
Showers will be drop shipped to any customer location nationwide.