Perfect Poolside Snacks
April 01/2023
Eating healthy by your swimming pool can be fun and easy and delicious. Finding the perfect poolside snack however isn't easy. The ideal snack should be light, refreshing, easily digestible and of course it has to be tasty. This Summer look like a super star chef with these 3 easy recipes.
Pro Tip: Never use glass in your pool area.


Fruit Skewers With Two Sauces
Forget of traditional, boring fruit salad. Instead make fruit skewers. Your guests will love the ease of grabbing a fruit packed skewer. Yummy chunks of pineapple, strawberries, plums, kiwis and melon on skewers. For an even sweeter twist, serve alongside creamy chocolate and orange sauces. Taking them to go? Pack the sauces in airtight containers.
INGREDIENTS
16 large strawberries
2 kiwis
8 chunks fresh pineapple
2 plums
8 chunks ripe honeydew melon
CHOCOLATE DIPPING SAUCE
1 c. semisweet chocolate chips
½ c. heavy (whipping) cream 8
2 tbsp. light corn syrup
ORANGE DIPPING SAUCE
1 c. fat-free sour cream
3 tbsp. sugar
1 tsp. freshly grated orange peel
2 tbsp. fresh orange juice
You also need: Sixteen 10- to 12-in. wooden skewers
DIRECTIONS
Chocolate Sauce: Microwave chocolate chips and heavy cream in a medium microwave-safe bowl on high at 30-second intervals until cream is steaming hot. Let stand 1 minute, then stir until chips have melted and sauce is smooth and starts to thicken. Stir in corn syrup. Cool to room temperature or, stirring often, refrigerate to cool quickly. Sauce will thicken more as it cools. If sauce is too thick, warm gently in microwave.
Tips : Prepare Chocolate Sauce and store up to 8 hours at room temperature or refrigerate up to 5 days (to serve, heat, then cool to room temperature). Make Orange Sauce up to 1 day ahead; refrigerate. Prepare and/or cut fruit and skewer up to 8 hours before serving. Refrigerate covered.
Chewy Oat Bars
Simple, tasty and filling, these tasty bars will be the life of any party or the perfect quick snack for someone on the go. These bars are guaranteed to fill the emptiest tummy by the pool with everything needed for a fun filled afternoon.
INGREDIENTS
1 c. unsalted butter
1 c. honey
½ c. granulated sugar
5 c. quick-cooking oats
1 c. sunflower seeds
1 c. unsalted roasted almonds
1 c. dried cranberries
1 tbsp. all-purpose flour
1 pinch kosher salt
DIRECTIONS
Heat oven to 325 degrees F. Line a 9- by 13-inch baking pan with parchment, leaving a 2-inch overhang on the two long sides.
Place the butter, honey, and sugar in a large pot and cook over medium-low heat until melted, about 3 minutes; remove from heat.
Meanwhile, in a large bowl, combine the oats, sunflower seeds, almonds, cranberries, flour, and salt. Add the oat mixture to the butter mixture and fold until just combined. 9 Gently press the mixture into the prepared pan and bake until light golden brown, 30 to 35 minutes.
Transfer to a wire rack and let cool completely. Using the overhangs, transfer the bar to a cutting board and cut into 24 pieces.
The Tested Watermelon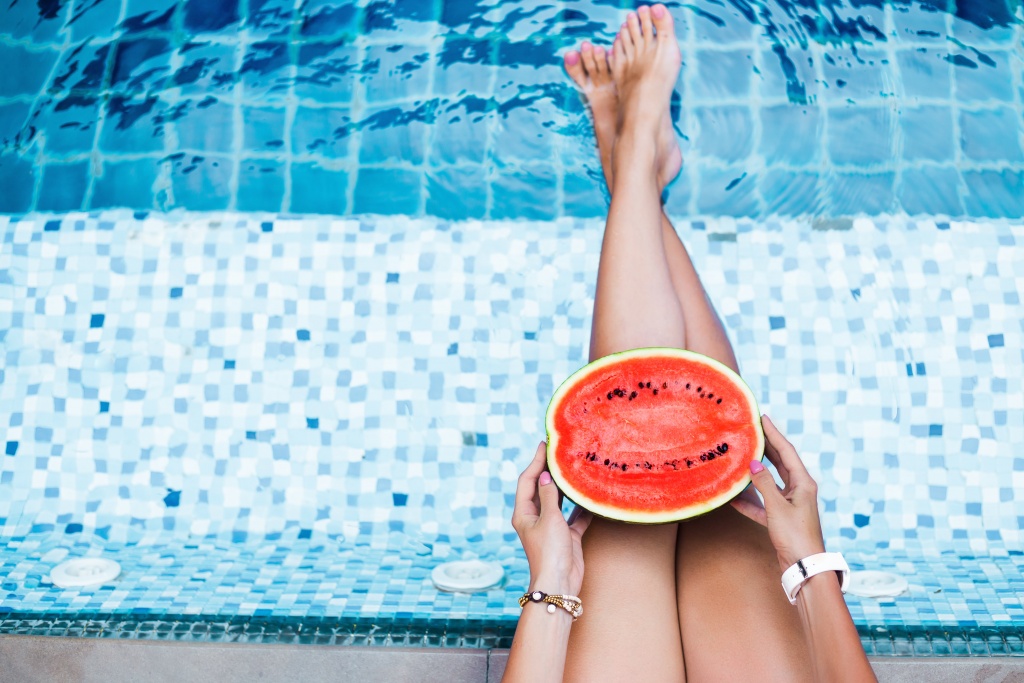 Need something quick and easy. No problem we have you covered. Try a sweet juicy watermelon. Few snacks are as simple and satisfying as slicing up a watermelon for your guests. Not only is it sweet and tasty but watermelon is also full of water to help keep your guests hydrated by the pool.
---
---